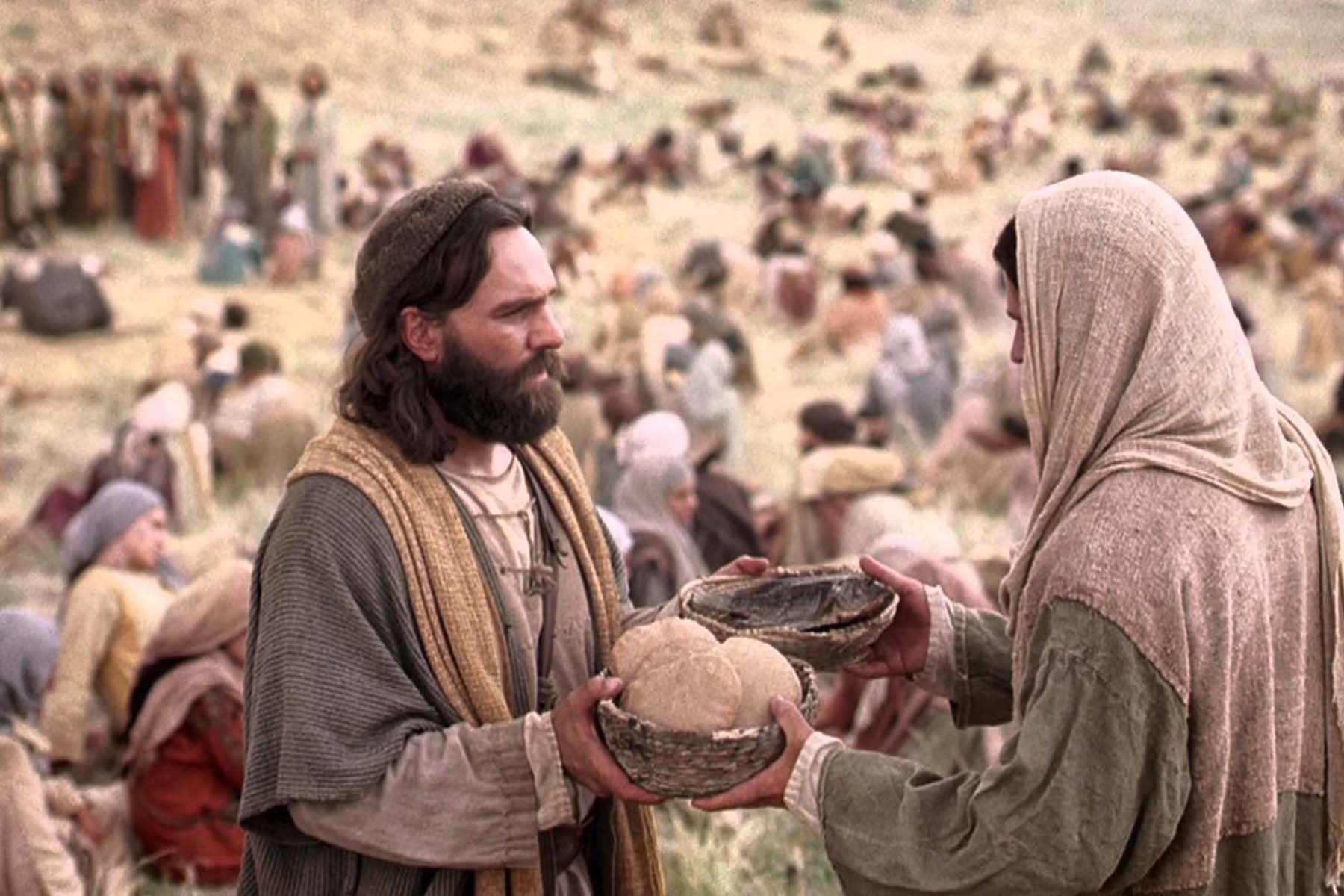 Isaiah 25:6-10a
6 On this mountain the Lord of hosts will make for all peoples
a feast of rich food, a feast of well-aged wines,
of rich food filled with marrow, of well-aged wines strained clear.
7 And he will destroy on this mountain
the shroud that is cast over all peoples,
the sheet that is spread over all nations;
8     he will swallow up death forever.
Then the Lord God will wipe away the tears from all faces,
and the disgrace of his people he will take away from all the earth,
for the Lord has spoken.
9 It will be said on that day,
Lo, this is our God; we have waited for him, so that he might save us.
This is the Lord for whom we have waited;
let us be glad and rejoice in his salvation.
10 For the hand of the Lord will rest on this mountain.
Matthew 15:29-37
29 Jesus left there and went along the Sea of Galilee. Then he went up on a mountainside and sat down. 30 Great crowds came to him, bringing the lame, the blind, the crippled, the mute and many others, and laid them at his feet; and he healed them. 31 The people were amazed when they saw the mute speaking, the crippled made well, the lame walking and the blind seeing. And they praised the God of Israel.

32 Jesus called his disciples to him and said, "I have compassion for these people; they have already been with me three days and have nothing to eat. I do not want to send them away hungry, or they may collapse on the way."

33 His disciples answered, "Where could we get enough bread in this remote place to feed such a crowd?"

34 "How many loaves do you have?" Jesus asked.

"Seven," they replied, "and a few small fish."

35 He told the crowd to sit down on the ground. 36 Then he took the seven loaves and the fish, and when he had given thanks, he broke them and gave them to the disciples, and they in turn to the people. 37 They all ate and were satisfied. Afterward the disciples picked up seven basketfuls of broken pieces that were left over.
Reflection
Throughout Scripture, there are many times people speak to, meet with, and experience God, and the encounter often happens on a mountain. Just look at Moses and the Ten Commandments, Abraham and Isaac, the Sermon on the Mount, the Transfiguration, and the Resurrection, to name a few. In both Jewish and Christian cultures, mountains have religious symbolism, since they are "closer to God," who dwells in the heavens. It is no wonder many look to the heavens in prayer.
The readings from Isaiah and Matthew both share a mountain venue. Jesus goes up the mountainside and sat down, while crowds brought many afflicted with disabilities, whom Jesus healed. The debilitating maladies in need of Jesus' healing are subject to the command of Christ, as are all things. The people were amazed  to see the blind see by faith, the mute speak in prayer, the crippled walk in obedience to the Word of God! They praised God! What's interesting is that they were laid at Jesus' feet. When we are in need of spiritual healing, are we not on our knees and do we lay our issues at His feet, knowing that the spiritual cures Jesus works are wonderful and always leaves us amazed?
We experience Jesus' Incarnation in both His miracles and in His compassion for the people. Aside from the miracles, there must have been something else Jesus had to offer for the people to be with him for three days—His salvation!! Jesus did not want to send the crowds away hungry, so with the seven loaves of bread and a few small fish, He gave thanks, broke them and distributed it to the people. After everyone ate, there was an overabundance of food left over. All of them ate. All of them were filled. Those whom Jesus feeds, He fills. When Jesus feeds us, we are filled with an overabundance of His grace.
This is the way it will be for ALL peoples at the end of time! A feast that God has prepared for us in His Kingdom. A festal joy, full communion with Him, an abundant supply of all wants and needs, a family communion that is possible through Jesus. Jesus is the food for our souls meant to nourish our whole being. It is then that all of our tears will be wiped away, and in union with the people Jesus healed, we can say in unison, "This is our God; we have waited for him, so that he might save us. This is the Lord for whom we have waited, let us be glad and rejoice in His salvation."
Prayer
Oh good and gracious God, let us not lose sight of the mountaintop, as we continue to journey with Your Son Jesus. There are times when we may slip and fall, but know that with Jesus by our side, we will eventually reach the mountaintop and partake of your heavenly feast. Along the way, our only desire is to do Your Will, and to bring the Gospel to all peoples.   May we remember that we stand in Your Presence always, and Your Grace always surrounds us. Amen.
James Jakubowski
Seminarian